There is no doubt that UAE is a melting pot for talented individuals, as it's a free town for opportunities! Individuals all over the globe are always set to pack their bags and land in this place, packed with high-paying opportunities, tax-free salaries, solid-global exposure and a fruitful career. But nothing can be more disappointing than being head over heels in debt and yet your career destiny has not been in your favour. Every time you apply for a vacancy, there's a deep silence from the other end. It feels as if you wasted your efforts in a pothole!
But pause for a moment – and think – is it really your destiny, or a poorly crafted CV that gets rejected instantly? The bitter truth is; it's your unprofessional vitae that has been making recruiters give you a cold shoulder.
But don't lose hope. If you have already landed this dream opportunities-alluring destination (or are planning to), our article can help you with making a perfect CV that hooks UAE's hiring managers. And these pointers are not just regular tips, instead, we have plumbed the depth to accumulate great data from the HRs in Dubai to get you to interview at the best UAE companies.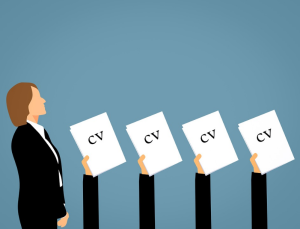 The Secret Recipe To Make A Perfect CV For UAE Employers in 2023
Following are the tips and tricks, shared by professional hiring managers of the country, to explain the blunders that almost every candidate commits, leading towards deep silence.
Correct CV Length:
Firstly, let us break it to you – there's no specific "ideal" resume length! Although a one-page CV is considered too short, and more than 3 pages are considered too long – but the final decision depends upon your work experience, education and other sections that your document calls for. For instance, a fresh candidate with the least experience will not take more than a page (if he/she is concise and to the point), while a C-level executive might take some more pages.
Therefore, depending on your experience, choose the correct length for your curriculum vitae.
Expertly Written Summary:
Hiring managers got a big stack of resumes to check. In such situations, summaries give them a shorthand about what to expect from the job seeker. If the summary is not up to par, an HR won't bother to read the rest of the document, and instantly pass it on to the "rejected pile".
None of the jobseekers would ever dream of their vitae slipping into the rejected pile. However, writing a summary isn't a craft for everyone. If you can be related to this, hire our resume writing services. The professionals here have aced the trick of writing quality-rich summaries that gets the job done. Otherwise, if you are planning to do it yourself, make sure to keep it concise, catchy and to the point.
Professional Photo:
Does a jobseeker really need to add a professional photo to their resume? That's a never-ending debate. But what we fetched from a collective discussion with UAE's recruiters is that it depends on the targeted employer. Some multinational companies in the UAE don't really encourage job seekers to add a professional headshot to their curriculum vitae.
On the contrary, local companies in the country don't mind jobseekers adding their professional headshots. But be mindful while adding a picture – it is supposed to be a professional-passport size picture, and high in resolution, attached at the top corner of the document.
Important Details:
Sticking to important details while curating vitae is a proven trick to impress employers in the UAE. The employer doesn't want to know which subject you liked when you were in grade 4, or who was your favourite teacher in grade 6. While preparing a vita, make sure every piece of information you add to the document is relevant and goes with the job description. If you have too many accomplishments to mention, do it smartly. Use the right and powerful words for the purpose.
For example, instead of writing: "I used to assign and explain tasks to the team. I used to proofread the delivered tasks and submitted them to the team". Go for: "Assigned, explained and proofread tasks to the team and ensured smooth operations."
The same goes for your education. Begin with your latest qualification first and then back-to-back give a quick overview of your previous educational institutes.
Skillsets You Need To Mention:
Amongst the most common blunders committed by jobseekers, is taking the skillset section very lightly! Undervaluation of this part can be the easiest way towards losing the not opportunity. Rather than copying the same skillset, you find online or on templated resumes, it is highly advised to tally skills from the job description.
For instance, if an employer is looking for a CV maker Dubai with collaboration talent; you can add collaboration talent as your skillset. However, we do not recommend jobseekers lie about their skills. If there's something you lack, consider not mentioning it in your CV.
Additional Details:
Often companies in the UAE require additional information like marital status during the initial screening stages. Such information is required to offer accommodation, sponsorship, insurance and other perks to the employer. If such information is required, do not hesitate in mentioning it. However, never include sensitive information such as passport numbers etc, especially if you are new to the country. Letting an unknown have so much information about you can land you in dire straits.
Wrap Up
Cutting it short – a resume either makes it; or breaks it! With a killer resume, enough experience, and an amazing cover letter, no power can stop you from getting the dream job. Just make sure to adhere to UAE's standard hiring practices and design your resume according to that – and the ball will be in your court.